Carla is one of those born organizers. She has always loved to organize her own space and her friends' homes. At 11 years old, when a friend couldn't play until she cleaned her room, Carla said, "Oh, I'll come over and help you!" It turned into a whole organizing session. Carla remembers rearranging her friend's closet, and moving all the furniture – The works!
While Carla began her career in sales, and took a break to raise her son, she ultimately realized that organizing was her true passion. "Every day I see the huge weight that's lifted when a client becomes organized. I see how much more capacity they have when they regain control, and have a workable plan to maintain their newly organized space over time. It's important to me that others feel what it's like to have an organized home. Clutter is at the root of so much daily frustration and guilt. For many, chronic low energy and low self esteem stems from the overwhelm associated with chaos. Organization leads to a more energized, productive, and happy you! Something as simple as clearing the visual field, and creating a "home" for everything, provides an immediate sense of relief. Once a space is organized, somehow other things in life seem SO much easier!"
Carla's Specialty
Carla is confident in her ability to walk her clients through it all. More than solid advice, it is the patience, compassion, emotional support and encouragement required to see her clients to the other side of a project. For some, this is a very delicate process, and for others it's no holds barred and full steam ahead. Either way, Carla understands the importance of time management and knows what it takes to get the job done.
With large scale projects and more sensitive situations, like working with hoarders and seniors, Carla brings her Hoarder Support Team and specialty resources to the task. Whatever you need to reclaim and enjoy your home or office… Carla will have you Embracing Your Space!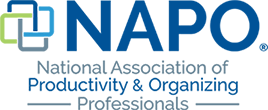 Carla is a member of NAPO, the National Association of Professional Organizers, and regularly participates in NAPO conferences and attends continuing education classes and workshops to bring the latest ideas and tips to the table.
Serving Clients With Integrity
Keeping Confidential ALL Client Information
Not Using Client Information to Benefit Myself or My Business
NAPO is a group of approximately 4,000 professional organizers dedicated to helping individuals and businesses bring order and efficiency to their lives. Facing more and more demands with less and less free time, consumers are struggling to manage their days and conquer the clutter and chaos building up in their lives.